Designing the outdoor kitchen…
Aesthetically simple,
Functionally extreme.
Design is orientation and differentiation. Outdoor kitchens are creations that take their place, but also save space.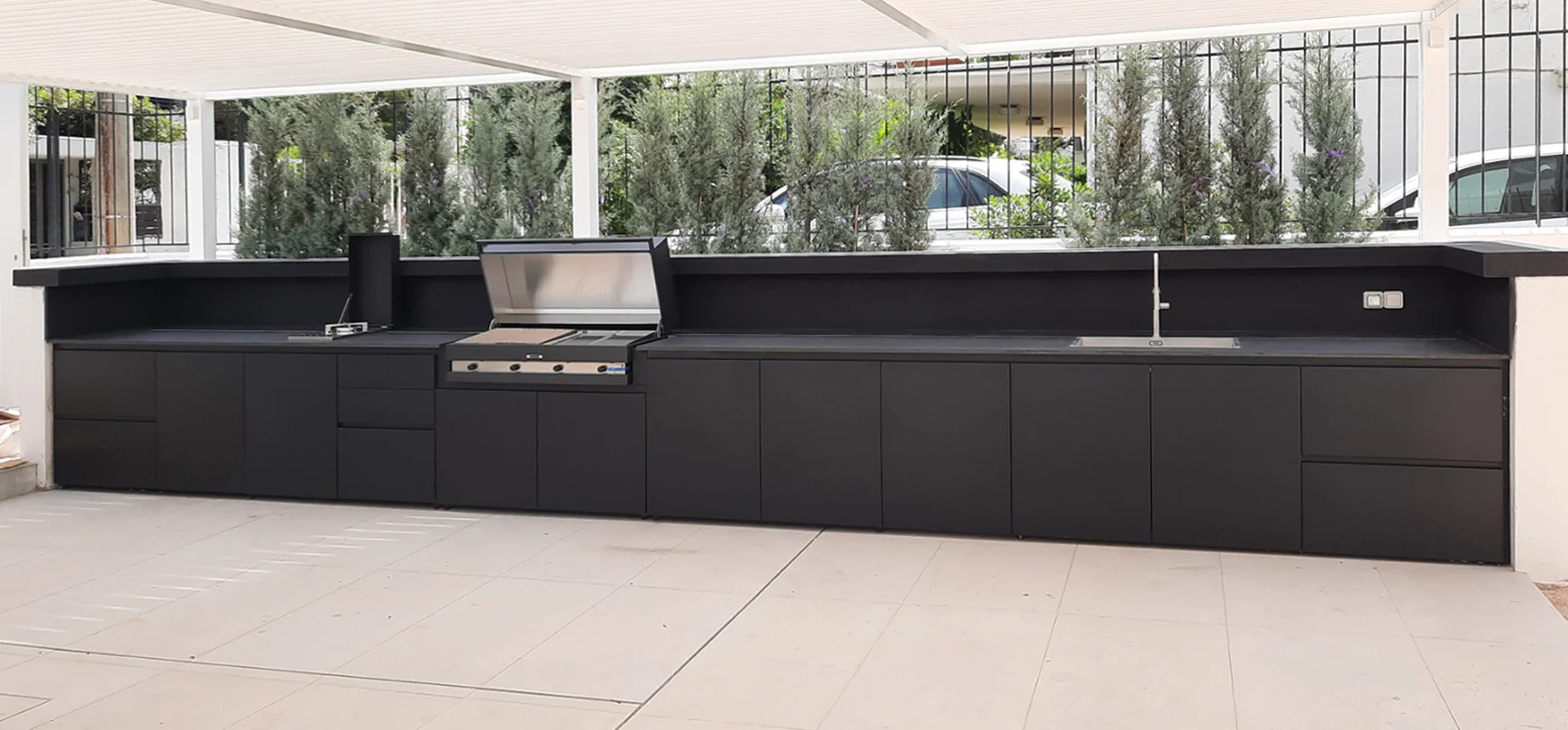 In the past, the kitchen was the heart of the house and apartment. And even today, it is the favorite place where family, relatives and friends meet. Outdoor kitchens come to complement this tradition, being timeless and highly functional. They comply with all requirements regarding design, simplicity, and quality. Everything is combined so that cooking is easy for you.
This way, you can focus on the basics: the time you spend with your loved ones. We design all kitchens according to your requirements and needs. This results in impressive creations of lasting value, which you will enjoy for a long time.
OUTDOOR KITCHENS - TAILOR MADE

FireProject outdoor kitchens are renowned for their resistance to all kinds of weather conditions. High quality raw materials, state-of-the-art technology, coverage solutions and meticulous production processes ensure the perfect enjoyment of your outdoor kitchen 365 days a year.
The innovative design allows the choice between a wide variety of gas appliances, built-in refrigerator, sink, wine cooler and much more in tailor made constructions. Fireproject's extensive experience in Outdoor Kitchen Tailor Made is offered with comfort and practicality in mind so that the outdoor kitchen is tailored to your wants and needs.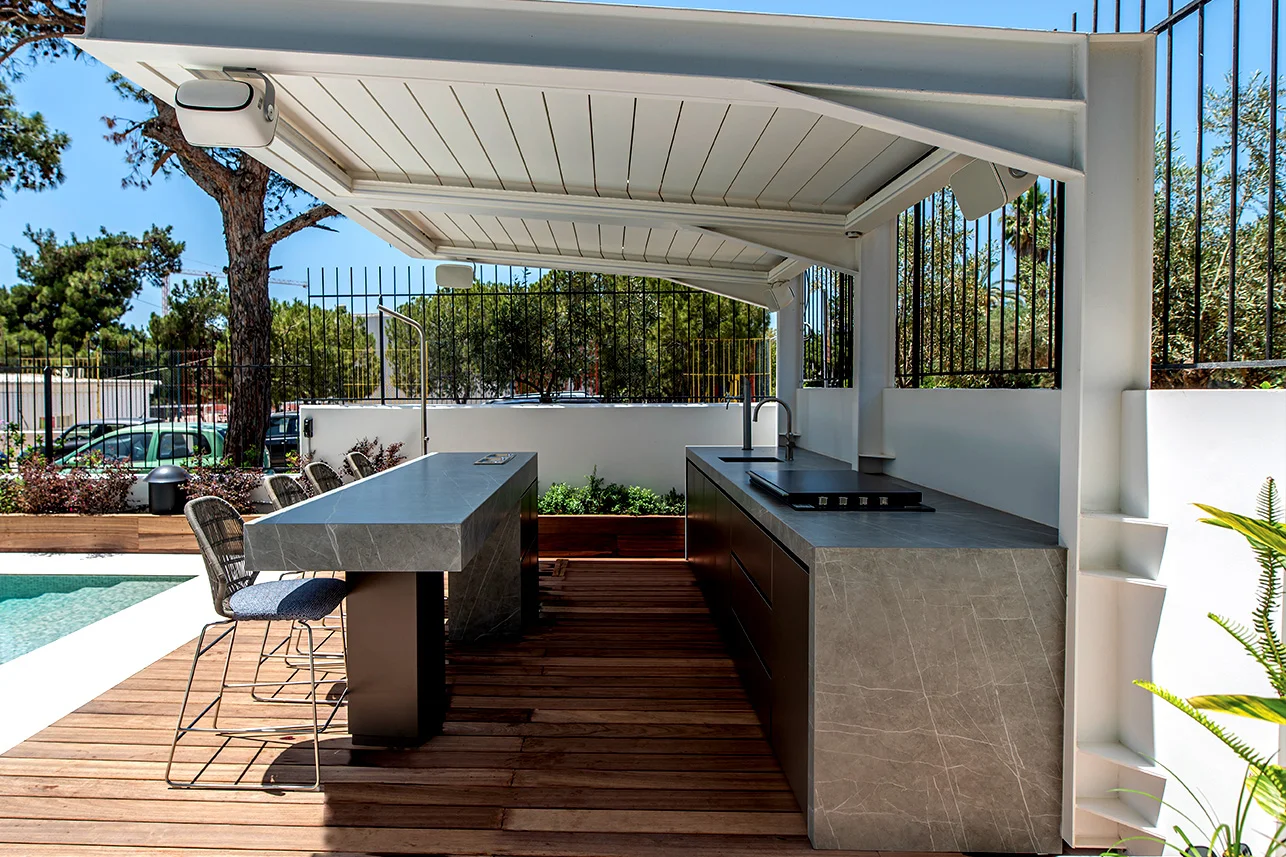 MODERN DESIGN SHAPES IDEAS
Everything changes with Airone Barbecue
First of all, the technology of the plancha in stainless steel hides the "secret" (Aisi 304) that allows them to reject the absorption of 100% odors, odors, fats and oils.
This for you means that you will not have to employ one hour to clean the plate and you can it reuse without releasing food odors from previous cooking. It also means that, from the second time you use it, you save a lot of time from its preparation, cooking and cleaning. Also the stainless steel plate requires much less time to get the proper temperature than other materials. It takes 7 minutes to prepare the barbecue and 5 minutes to clean it.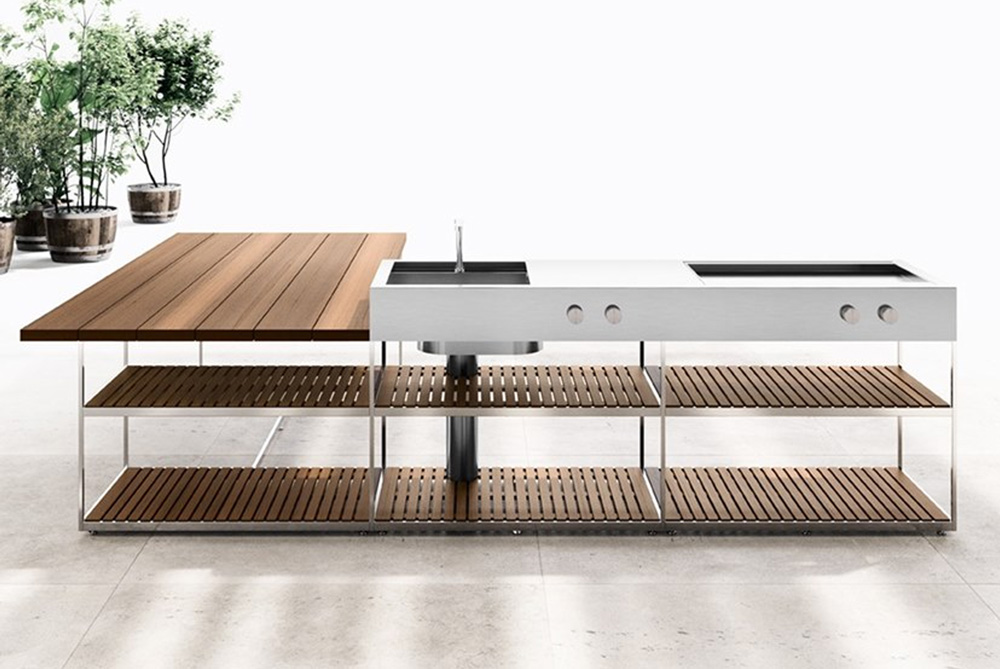 MODERN DESIGN SHAPES IDEAS
Those who love the outdoors life, appreciate cooking in the garden or on the terrace. The best way to enjoy these happy moments is the freedom to create any dish, without restrictions of your imagination. The idea for the product was based on this condition: to gather all the functional charm of a traditional kitchen while providing all its advantages outdoors.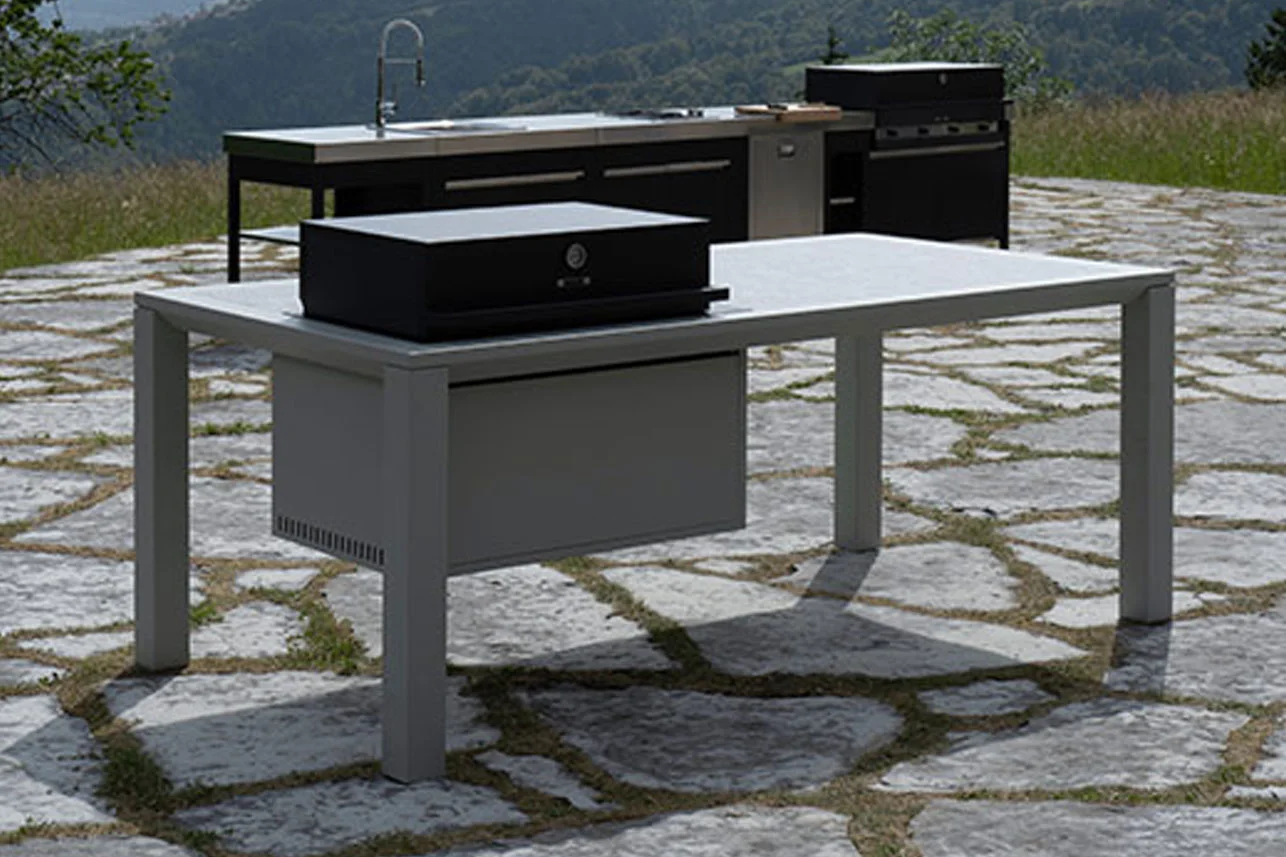 ENJOY OUTSIDE COOKING WITH INDU+
Indu+ elegant outdoor mobile trolleys kitchens will help you turn your recipes into exquisite dishes that your guests will love in your own outdoor space! The great flexibility of adapting the devices (wok, teppanyaki, grill, etc.) gives you the possibility to quickly and easily create all the recipes you want with the high quality of materials.
CUSTOMIZED TO YOUR NEEDS…
The mission of Veripla Systems is to offer high quality and aesthetics.
Its strong industrial and competitive ability in the design, manufacturing and assembly processes of equipment for sector and comfort are based on fire and design.
It specializes in the exclusive manufacture of metal outdoor fireplaces and BBQs.